26 août 2015
قلتوا 3000 عام حضارة؟؟؟؟
The Zaghouan Aqueduct - or Aqueduct of Hadrian - was a Roman aqueduct which supplied water to the ancient city of Carthage (Tunisia). Built around 130 AD, during the reign of the Emperor Hadrian, The aqueduct was partially restored in the 19th century but today lies mostly in ruins.
The present photo of the Aqueduct has been taken in Le Bardo (near Tunis) a few hundred meters away from the building of the Tunisian Parliament and the most important archaeology museum in Tunisia. One can notice how citizens are likely to throw their garbage at the foot of a world heritage without hesitation. At the same time, the dismissal of local authorities more than one year after the elections in Tunisia is a testimony of serious social and environment difficulties.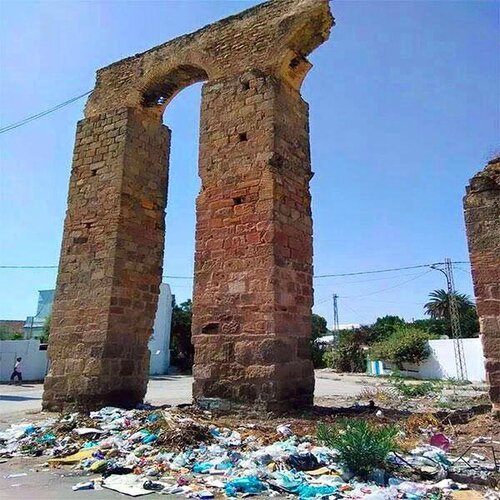 glorious past standing against trashy present
Today, Tunisia is suffering from despicable environment problems: polluted and dirty beaches, anarchic throwing of waste at cities' entrances, exits and rings and alarming violations of all sorts starting from confiscating sidewalks and public roads by merchants and restaurants , a chaotic urban development and moving to a very poor road system and infrastructure facilities. It is to be noticed that toying with Tunisia's heritage and history is not unprecedented in the last few months without the least reactions from local authorities agonised by incompetence and corruption.
Newly elected Parliament and President made clear promises before elections to work seriously on environment and garbage collecting problems; more than one year since their election, not only nothing has been done but things are getting worse. It seems that no changes are going to take place in near or medium-term future since neither political parties nor ruling ones are keen on organising or even raising the idea of planning municipal elections for reasons of politicking and power greed.
Commentaires sur In the Absence of Municipal Elections: Tunisia is Damaging its Archaeology and History