29 juillet 2022
Abstract
The aim of the research is to apply Csikszentmihalyi's flow theory to William Shakespeare's King Lear. Commonly, flow and optimal experience are equated with happiness as well as positive characters since they pertain to the realm of positive psychology. The analysis has demonstrated that tragic and/or agonising characters can endure flow and optimal experiences amid cathartic situations. The challenging part of the research has shown that flow and optimal experience are likely to happen with villainous characters performing wicked deeds. The applicability of the flow theory on King Lear as a tragic hero who is not forcefully wicked has been demonstrated. The Fool/Lear relation has been scrutinised to prove that their intertwining has reinforced flow and created feedback. Edmund's soliloquy is not an embittered speech by a malcontent as conventions have shown; it is rather an optimal experience exhibiting important flow components such as freedom and focus. Moreover, there is semantic parallelism between plot and subplot as for the interconnectedness between flow and evil characters. The study of the mutilation scene orchestrated by the wicked sisters and Cornwall shows that flow does not require that the executed task should be of a benevolent nature; it does not also require that the perpetrator of the action ought to be good-natured or warm-hearted. Flow and the optimal experience can happen amid chaotic, violent, criminal, and even sadistic acts.
Keywords: Flow theory, optimal experience, Mihaly Csikszentmihalyi, King Lear, Focus.
Direct link to full article:
https://www.univ-saida.dz/lla/wp-content/uploads/sites/8/2022/07/article-zied-5.pdf
Download the article here (PDF)
Citing this article according to APA guidelines:
Ben Amor, Z. (2022). "That ebb and flow by th' moon": The Dynamics of Flow Theory
and Optimal Experience in William Shakespeare's King Lear". ATRAS, 3(2), 39-56.
https://www.univ-saida.dz/lla/wp-content/uploads/sites/8/2022/07/article-zied-5.pdf
References
Ashinoff, B. K., & Abu-Akel, A. (2021). Hyperfocus: The forgotten frontier of attention. Psychological Research, 85(1), 1–19. https://doi.org/10.1007/s00426-019-01245-8
Ben Amor, Z. (2020). Mapping sight and Blindness in King Lear(s) of William Shakespeare and Roberto Ciulli: Towards a Poly-optic reading. International Review of Literary Studies, 2(2), 14–33. https://irlsjournal.com/ojs/index.php/irls/article/view/21/13
Biasutti, M. (2011). Flow and Optimal Experience. In M. A. Runco. & S. R. Pritzker (eds.) Encyclopedia of Creativity (, pp. 522–528). Elsevier. https://doi.org/10.1016/B978-0-12-375038-9.00099-6
Bjornestad, A. & Schweinie A. (2008). Flow Theory. In E. Anderman. & H. Lynley (eds.). Psychology of Classroom Learning: An Encyclopedia Macmillan Reference USA/Gale Cengage Learning.
Buckels, E. E., Jones, D. N., & Paulhus, D. L. (2013). Behavioral confirmation of everyday sadism. Psychological Science, 24(11), 2201–2209. https://doi.org/10.1177/0956797613490749
Clegg, S., Courpasson, D., & Phillips, N. (2006). Power and organizations. https://doi.org/10.4135/9781446215715
Csikszentmihalyi, M. (1991). Flow: The psychology of optimal experience (1. HarperPerennial ed). HarperPerennial.
Csikszentmihalyi, M. (1988). The Flow Experience and its Significance for Human Psychology. In M. Csikszentmihalyi & I. Csikszentmihalyi (Eds.), Optimal Experience: Psychological Studies of Flow in Consciousness (pp. 15 35). Cambridge: Cambridge University Press.
Csikszentmihalyi, M., Rathunde, K. R., & Whalen, S. (1997). Talented teenagers: The roots of success and failure (1st paperback ed). Cambridge University Press.
Da Silva Gregório, P. (2020). Beyond the Absurd: Beckettian Tragicomedy Recast in Adrian Noble's King Lear. English Studies, 101(6), 741–755. https://doi.org/10.1080/0013838X.2020.1796384
Farsi, R., & Dehnad, V. (2016). Flow Theory and Immersion in Literary Narrative. International Congress of Islamic Sciences and Humanities, 1–4. https://www.academia.edu/34499067
Foucault, M. (2012). The History of Sexuality: An Introduction. Knopf Doubleday Publishing Group. http://public.eblib.com/choice/PublicFullRecord.aspx?p=6084793
Garner, S. B. (2018). Kinesthetic spectatorship in the theatre: Phenomenology, cognition, movement. Springer International Publishing. https://doi.org/10.1007/978-3-319-91794-8
Gerrig, R. J. (1993). Experiencing narrative worlds: On the psychological activities of reading. Yale University Press.
Gosling, J. R. (2019). Take your lead: The pleasures of power in universities and beyond. Journal of Management & Organization, 25(03), 389–395. https://doi.org/10.1017/jmo.2019.17
Hemming, S. (2018). Playing King Lear's Fool. Financial Times.Available at. https://www.ft.com/content/2523a684-739d-11e8-bab2-43bd4ae655dd
Jones, S., & Gosling, J. (2015). Napoleonic leadership: A study in power. SAGE. DOI: https://dx.doi.org/10.4135/9781473921238.
Nell, V. (1988). Lost in a book: The psychology of reading for pleasure. Yale University Press.
Ryan, M.-L. (2010). Narrative as virtual reality: Immersion and interactivity in literature and electronic media (Transferred to digital print. 2001-[im Kolophon: Milton Keynes: Lightning Source, 2010]). Johns Hopkins Univ. Press.
Shakespeare, W., & Hibbard, G. R. (2008). Hamlet. Oxford University Press.
-------------. (2009). King Lear (R. A. Foakes & R. Proudfoot, Eds.). The Arden Shakespeare.
Snyder, C. R., & Lopez, S. J. (Eds.). (2009). Oxford handbook of positive psychology. Oxford University Press.
ABOUT THE AUTHOR
Zied Ben Amor: PhD, Assistant Professor, Ex-chairman of the English Department, Faculty of Arts and Humanities of Sousse, University of Sousse, Sousse, Tunisia
Citing this article according to APA guidelines:
Ben Amor, Z. (2022). "That ebb and flow by th' moon": The Dynamics of Flow Theory and Optimal Experience in William Shakespeare's King Lear". ATRAS, 3(2), 39-56. https://www.univ-saida.dz/lla/wp-content/uploads/sites/8/2022/07/Zied-Ben-Amor3.pdf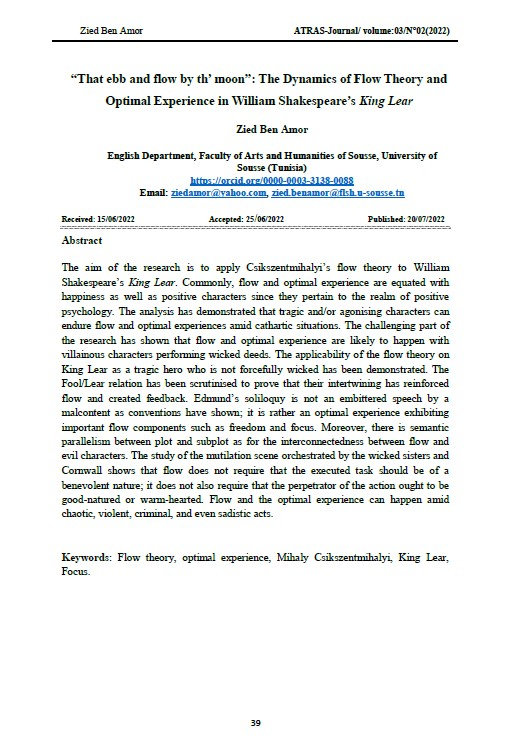 Commentaires sur "That ebb and flow by th' moon": The Dynamics of Flow Theory and Optimal Experience in William Shakespeare's King Lear